Calling all members…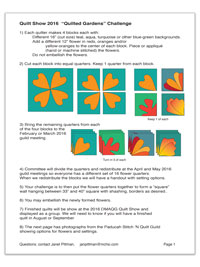 Working with the quilt show theme "Our Quilted Gardens" we will be having a special display of flower quilts made from an exchange of blocks within the guild. Each member playing will make flower blocks, divide them, turn some in for an exchange of parts and then make a quilt with the blocks you have received back. The 30″-40″ square quilts will be displayed as a group at the fall quilt show.
Blocks are due at the February or March Guild Meetings.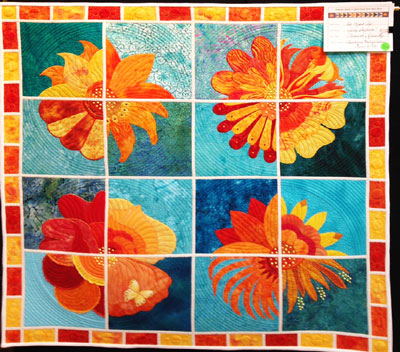 Update:
The "Quilted Gardens" challenge has been a great success! We had 42 members participating in the first part of the challenge. Thirty eight of those have picked up their packet of 12 assorted blocks to make their 16 block flower quilt. We will have the remaining four packets at the May meeting. Please download the pdf (click the image below) with tips for putting your quilt together including six setting options. Remember your finished quilt must be between 30″ and 40″ square.  We will announce delivery information closer to the quilt show.