This playful appliqué quilt was made by and donated to us by The Appliqué Group (TAG)
The quilt pattern is from Peice O' Cake Designs
It was quilted by Penny Barnes. The Iowa Quilt Block sponsored the quilting.
Be sure to buy your tickets from a guild member before the show and tickets will be available at the show!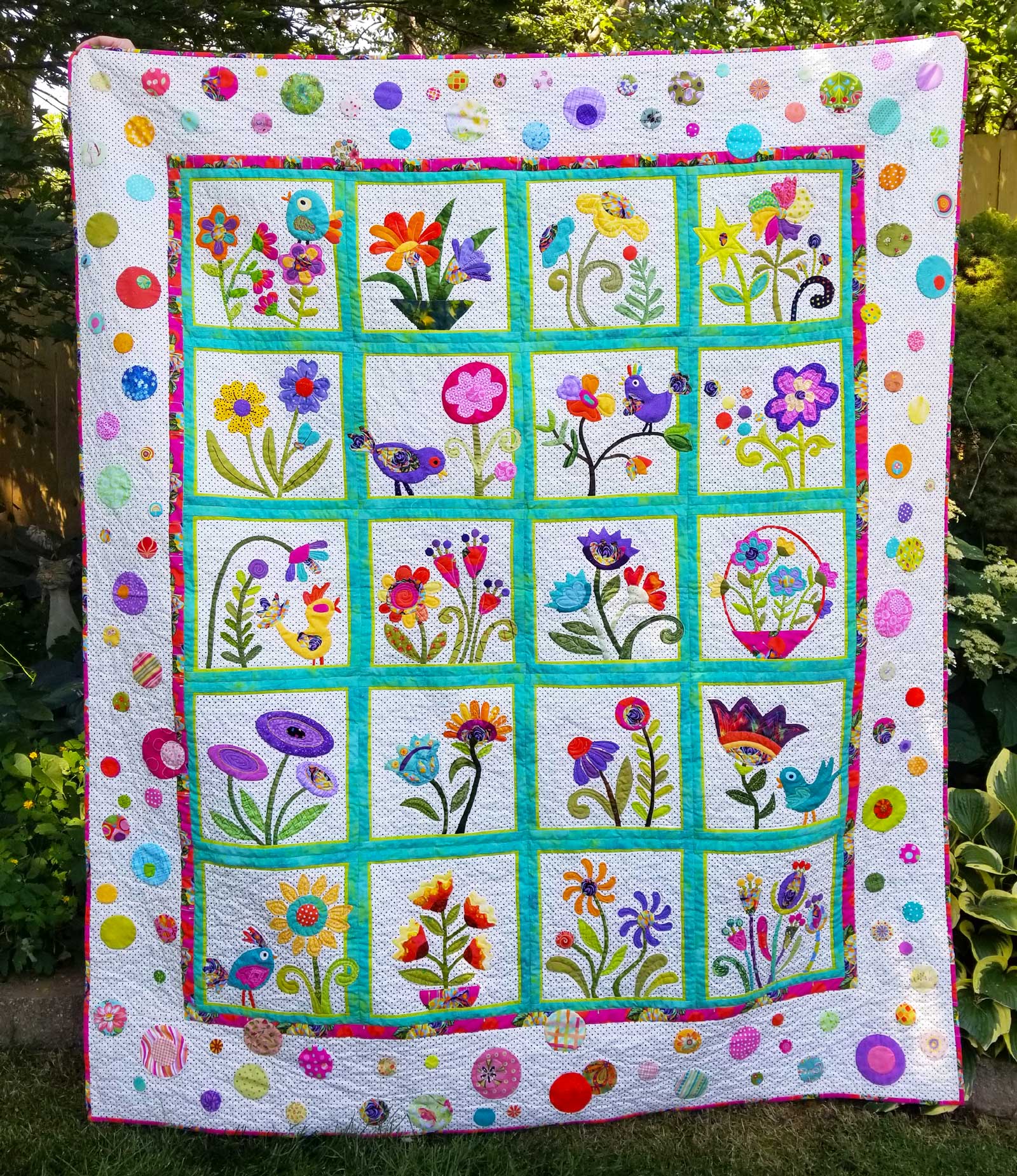 Visit the classroom for these special events…

Thursday, September 21
10:00      Mastering Stripology Rulers – Creekside Quilting
11:00      Quilt Turning
12:00      Curved Log Cabin – Debbie's Quilt Shop
 1:00       Quilt Turning
 2:00       Free Motion Quilting on a Domestic or Longarm – Woodside Quilting
 3:00       Fusique & The Cat's Cradle Ruler – Among Friends
Friday, September 22
10:00       Crazier 8 Ruler for making scrappy quilts – The Quilted Strawberry
11:00       Quilt Turning
12:00       Making 3D Decorations for Packages – Leo  9
 1:00       Quilt Turning
 2:00       Decorative Hand Stitching – Applique After Hours
 3:00       Learn How to Make Luminous Braids – Ilene Bartos Designs
Saturday, September 23
10:00      Hunter's Star Using Studio 180 – Quilt With Us
11:00      Quilt Turning
12:00      Sew Tites Cutting System – Off the Rails
 1:00       Quilt Turning
 2:00       The Mystery of the Japanese Kimono – Kimono Designs by Theresa
 3:00       Quilt Turning
Red and White Ruby Anniversary Quilt Exhibit
This special exhibit for the DMAQG 2023 quilt show will be for treasured (antique, vintage) and new red and white quilts. See the following for criteria to be used for this exhibit:
All quilts will be red and white. Cream and beige are acceptable background colors as well.
All quilts will need to have a hanging sleeve attached to the back of the quilt.
All quilts will be entered online for the quilt show.
All quilts will be juried into the exhibit due to space considerations.
Quilts eligible for this exhibit will have a perimeter greater than 80 inches.
Contact Beth Freeman befree1954@hotmail.com
Red and White 12″ squares – Barb Alderman cmjbbja@aol.com
English Paper Piecing (EPP) Exhibit with demo
If you have an English Paper Piecing quilt you would like displayed in the exhibit Please contact, Mary Jane Reelitz mjreelitz@gmail.com or Joyce Moore.
Quilt Turning
This Year's quilt turning will be "Our Quilts's Stories". The stories as told by your quilt.  I think this will be a fun and interesting presentation.  If you have a quilt with an interesting story, please contact  Susan Callison susancallison7@gmail.com.
2022 Strip Challenge
If you were part of the Strip Challenge and finished your quilt please contact Marcy Thompson dolphin5974@yahoo.com
Quilting in the Key of Life
Quilts that are inspired by music.  contact Marcy Thompson dolphin5974@yahoo.com
Here is a list of our confirmed 2023 Sponsors and Vendors. More will be added as they decide to join us.
Sponsors
WoodsideQuilting /Bernina – Classroom
Creekside Quilting – Food Court
Leo 9 Textiles – Community Outreach
Iowa Quilt Block – English Paper Piecing
Pieceworks Quilting – Musical Quilts
Off the Rails Quilting – Red and White Anniversary
The Woolen Needle – Quilt Between Two Rivers
Central Iowa Modern Quilt Guild – Special Exhibit
Vendors
Woodside Quilting – Warren Larsen – www.woodsidequilting.com
Quilting Among Friends – Linda Everhart – quiltingamongfriends.com
Creekside Quilting – Karen Steggerda – creeksidequilting.com
Debbie's Quilt Shop and Gifts – Debbie May – alliowashophop.com
Ilene Bartos Designs – Ilene Bartos – ilenebartos.com
 Off the Rails Quilting – Ann Van Thomme & Jenny Gruenwald – offtherailsquilting.com
The Iowa Quilt Block – Shelly Draur – theiowaquiltblock.com
Kimono Designs by Theresa – Theresa Gallup – kimonodesigns.com
One Wing Wool – Darlene Smith – onewingwool.com
University Vacuum & Sewing – 255dust.com
The Meandering Thread – Theresa Porter etsy.com/shop/meanderingthread
Something Stitched – Sharon Wasteney – somethingstitched.com
Appliqué After Hours – Angela Lawrence – appliqueafterhours.com
Leo 9 Textiles – David Saunders – leo9textiles.com
Treasured Gifts, LLC – treasuredgiftsllc.com
Quilt With Us at Cedar Bow Ranch – quiltwithus.net
Cedar Creek Quilts
Quilted Strawberry facebook only
Mashe Modern – Kristen Lee – mashemodern.com
VUMWE designs by empower Tanzania – www.vumwedesigns.org
Prairie Patches – Virginia Berger
Redfern/ Eurosteam irons – redfernentus.com/products/eurosteam-platinum-next-generation-iron
This is a fundraiser for the guild, please consider donating a small quilt (96" in circumference or less) or a quilted item. Items will be available to purchase via Silent Auction at the Quilt Show!
Bring your items to the July and August meetings.
Contact Judy D'lapico with questions or to donate. judediap@gmail.com
We need many hands to make the quilt show run smoothly! And there are many important jobs to choose from. Please click the button below and choose what will work best for you to be a part of the show. Consider set up, when you get a sneak peek of what's to come! Quilt Show hostess allows you to walk the show and see all our happy guests. There are sit down only jobs or jobs with more exercise involved. Click now to get the best selection.
Here's how it works in 3 easy steps:
1) Click this link to see our SignUp on SignUp:  https://signup.com/go/SJevhPF
2) Review the options listed and choose the spot(s) you like.
3) Sign up! It's Easy – you will NOT need to register an account or keep a password on SignUp.
Most of you have entered numerous quilts in the DMAQG Quilt Show and other shows even, so you know exactly what to do! But for those who don't…and for those who want a quick checklist to make sure you aren't forgetting anything, here's the scoop! And if you have any questions, email dmaqgquiltentry@gmail.com.
1. Finish and clean your quilt!
This means the binding is done, the threads all snipped (and/or ends buried, if you do that!) AND there are no stray threads, no cat hair, no snippets of extra fabric tucked into a fold. Done and clean, check!
2. Attach a sleeve.
Biggest thing to know, 4″ sleeve, the entire width of your quilt, just under the binding at the top. Here's a PDF Tutorial.   A sleeve is not required for quilts longer than 85″.
3. Attach your entry tag.
Get a snack size or sandwich size ziplock bag and a printout of the confirmation tag you received when you entered the quilt (yes, we hope this is still be in your email!)  Put the tag into the bag and attach that bag to the bottom left corner of the back of your quilt with safety pins.
4. Bag your quilt.
Neatly fold your quilt and place it in a clean, spare pillowcase. You will not get this pillowcase back, so please use one you don't care to lose or pick up available cases at the guild meetings or quilt drop off sites.
5. Turn in your quilt.
Bring your entered quilt to the appropriate location for a judged or non-judged quilt by the deadline. See below. Please note that this may mean you have to bring your quilts to two different locations if some are judged and some are not!  Be sure each one gets to the right place on time!
July/August Guild Meetings Turn in your 12″ President's Challenge Quilts (and Little Quilts) at the guild meetings
Sept 8-14 Judged Quilts are due at Creekside Quilting
9926 Swanson, Clive
Sept 8–17 Non-Judged Quilts & Special Exhibit Quilts are due at The Quilt Block
325 5th St, West Des Moines
Picking up after the show…
Lastly you'll need to be ready for pick-up after the show. On September 23 at 5 p.m. take-down will begin. Line up in the hallway nearest the DMAQG show exterior door and wait for the take-down team to come get you. Take down goes quickly, you will get a show volunteer to move with you through the show to find your quilts and pick them up. Check out those quilts at the tables as you exit and your quilt is ready to go home with you. If you can't make it to this take-down process, you will need to appoint someone else in writing (give them a permission slip) to go get it for you. No quilts will be held after the show, so be sure to pick yours up!
Thank you to everyone who entered quilts in our show! We know it will be a great show, thanks to you!
Please congratulate these ribbon winners!