It is very true that we have an abundance of ways to participate in community giving in this guild…here is another! The Blue Star Mothers of America, Iowa Chapter based out of Camp Dodge has asked us to help with making stockings for the troops. The stockings will be distributed to deployed troops stateside as well as over seas. The Rocky Mountain Fudge Co. has donated 589 1 lb. boxes of fudge to put in the stockings. Other donated items will be added as well.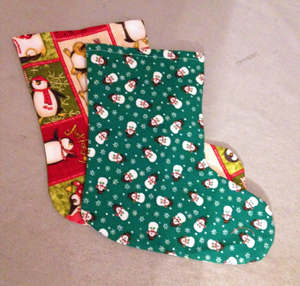 If you'd like to make one or more, please use the pdf pattern found here. Cut two on the line reversing one, hem the tops 1/2″ turned over once. Sew the sides with 1/4″ seam allowances right sides together. Turn inside out, press and you're done. Please note: avoid using fabric with metallic accents as they will not pass through security screenings on their way to the troops.
Stockings need to be turned in at the retreat this weekend or at the Annual Tea, December 7.  Thanks for your help and have fun stitching up some holiday joy!